Chinese Taipei Now Top of the Table After Beating Hong Kong, China (2/8/2014)
Although Hong Kong, China started the game with much intensity, it was Chinese Taipei which took the victory. The reigning champion beat Hong Kong, China 1-0 today and recorded the second win in as many matches of the tournament, after defeating Singaopore 2-1 yesterday.
Chinese Taipei started the tournament as the title favourites but it was Hong Kong, China which dominated the opening minutes of the game. The latter had three scoring opportunities to create a shocker only to see them being squandered.
With the roaring crowd behind, the hosting team found momentum in the first half, creating a lot of penetration in the Chinese Taipei half. However, after missing a few chances to take the lead, Chinese Taipei slowly worked their way back. The first half was a very even game and the score was tied at 0-0.
The second half saw Chinese Taipei having more purpose and the pendulum swung their way. Credit must be given to Hong Kong, China, though, for the defence they had put up against the menace of their opponents. However, a series of penalty corners in the middle of the second half proved too much for the local team. Chinese Taipei picked up a loose ball from the circle after a penalty corner attempt was blocked. Yang Chia-Yu wasted no chance anymore and hit a vicious high ball past the goalkeeper.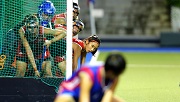 Tough defence by the Hong Kong team
With just one goal down, Hong Kong, China pressured on while having to keep an eye on Chinese Taipei's counter-attack. For the host, the clock ticked too fast for an equalizer and the final whistle was blown too soon.
"The result was disappointing but the girls played well," said Mark Kake, coach of the Hong Kong, China team. "We were not clinical enough in front of goal but this team only started together early this year and it was still work in progress."
Hong Kong, China is to play Singapore on Tuesday (August 5th) at 7pm. Hong Kong must win in order to progress to the final classification match on Wednesday. The audience will be the biggest support for the Hong Kong team. Come to King's Park on Tuesday and rally behind our girls!