Singapore Sent to the Final of the Junior AHF Cup after Beating Hong Kong, China 10-0 (5/8/2014)
A mistake prone Hong Kong, China defense gave too many balls away to Singapore. The latter was clinical in front of goal and smashed the local team 10-0.
Chinese Taipei, the reigning champion, had two victories after two games and already booked a place in the final classification match. Both Singapore and Hong Kong had no points before the match and both had the same goal difference. However, Singapore had scored one goal while Hong Kong had none. So Hong Kong had to win this game in order to progress to the final while a draw would suffice for Singapore.
Buoyed on the confidence built from a good performance against Chinese Taipei on Sunday, Hong Kong started the game well winning a lot of possession. However, Singapore threatened with their speed and slick passes. A penalty corner by Singapore was not converted in the first instance but the rebound was. The confidence of the host gradually wore down and mistakes came in abundance since then. Singapore went 3-0 up at half time.
Hong Kong, China started the second half with better organization but it was Singapore which scored. The coach saw that it was an insurmountable difference at 5-0 and gradually put in younger players for them to get more match experience and the margin was eventually widened to 10-0.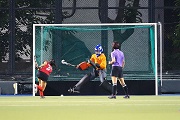 Penalty stroke awarded to Singapore
The final classification will be played between Chinese Taipei and Singapore tomorrow at King's Park Hockey Ground at 7pm. The winner of the match will be awarded the Junior AHF Cup.