The Thanks Coach Award 2016-17, organized by the Promotion & Development Section of the Hong Kong Hockey Association, aims to show appreciation to and recognition of our coaches who have done a lot of hard work in the season.
Please see the attachment for the Thanks Coach Award Rules and Nomination Form for your reference, online nomination is also available, kindly go to https://goo.gl/forms/N41SNl9ZVl7bzvHE3 for processing the form.
We are now calling for nominations for different categories from clubs. The winners will be announced in late April. The award presentation will be held on 14 May 2017 (Sunday) at King's Park Hockey Ground.
Coming March will see two Local International Events at King's Park Hockey Ground. They are the 8th Men's Hong Kong Quadrangular Hockey Tournament (HKQHT) on 23-25 Mar 2017, and the 4th Women's Hockey Invitational Tournament (WHIT) on 30 Mar - 1 Apr 2017. Both are U21 tournaments.
The teams of the HKQHT are Chinese Taipei, Guangdong, Thailand and Hong Kong.
For the WHIT, teams are Chinese Taipei, Singapore, Yunfu City (雲浮市) and Hong Kong.
The match schedules are as shown.
The Association is pleased to announce a very special event that has been arranged by the Hockey Section at HKFC - the Liquidnet Guv Dillon Charity Ball which will be held on Saturday 11 March 2017 at the HKFC Sports Hall.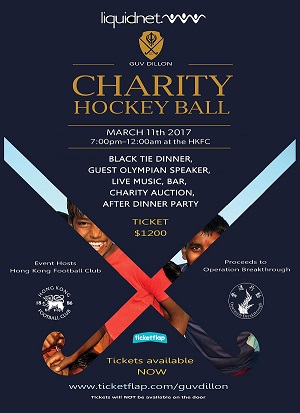 [Course FULL. Thank you for your support]
The Guru Nanak Hockey Tournament 2016 will be held at King's Park Hockey Ground and Club de Recreio.from 11:00am - 5:00pm on 27 December 2016.
Please come and support!
The Youth Hockey Exchange Programme (Singapore) held on 18-23 December 2016 has been a fruitful experience for our U23 players. Our sincere thanks to Singapore Hockey Federation for helping to arrange friendly matches between Hong Kong Teams and Singapore National Teams.
| | |
| --- | --- |
| | The Association is pleased to announce that Hong Kong umpire, CHOR Ming Yeung, has been promoted to International Outdoor Umpire by FIH following the 5th Men's AHF Cup Tournament. Many congratulations to Chor Ming! |
Bronze Medal Match

Singapore went down against Hong Kong 1:2
Felix Iu shot the opener in the 4th minute to put Hong Kong in a 0:1 lead. Singapore missed many chances in the first half time until the 35th minute when Grewal Ishwarpal converted a penalty corner to level the score to 1:1. In the second half time, Felix Yu flicked the ball through the Singaporean again in the 53rd minutes. Hong Kong's Goalkeeper Chan Hou Fung blocked off any threat from the Singaporean. Hong Kong sealed bronze medal in the AHF cup with a score of 1:2.
Gold Medal Match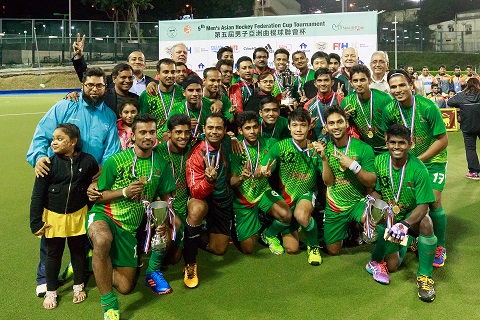 Bangladesh defected Sri Lanka 3:0
Jubair Hasan put Bangladesh in a 1:0 lead in the 22nd minute. Islam Ashraful widened the scoreline to 2:0 in the 61st minute and Kamruzzaman A.H.M. scored Bangladesh's third goal in the 67th minute through a well-worked penalty corner.
Please click here to get the Match Results & Final Standing.
Hong Kong qualified for the semi-final after holding Chinese Taipei 3:3 in their last pool match yesterday, thanks to Boris, Sukhmit and Felix goals. Both teams are on equal 4 points after 3 matches. Hong Kong secured berth for the semi-final on goal difference. Hong Kong's opposition in the semi-final will be decided in today's Pool B matches.
Come and support our Hong Kong boys in the semi-final this Saturday!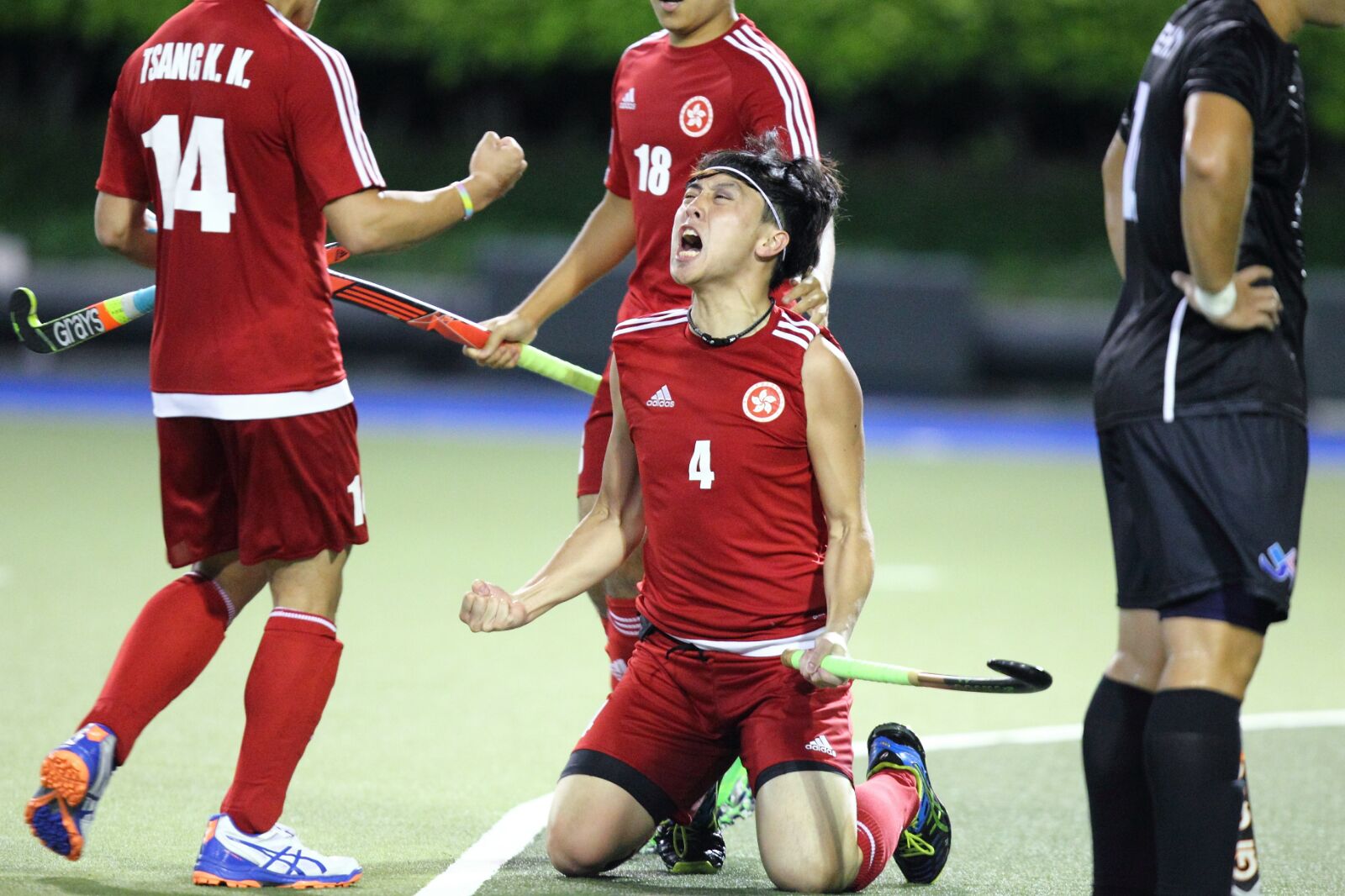 Felix Iu sliding on his knees after the third goal.
Players in photo :

Back Row : Sukhmit Singh, James Shepherdson, Kelvin Chan, Allen Tse, Felix Iu, Tony Yu, Siu Chun Ming (Captain), Boris Chow, Mathew Chan, Eddie Leung (Manager)
Front Row : Chris Tso, Michael Chung, Gabriel Tsoi, Siddick Khan, Fahin Khan, Ken Tsang, Stanley To
Players not in photo : Davis Kwok and Silas Poon
Coach not in photo : Mark Kake
Organized by The Hong Kong Hockey Association (HKHA),the 5th Men's Asian Hockey Federation Cup (5th Men's AHF Cup) will be held from19th to 27th November 2016 in Hong Kong. 8 Asian teams will compete in Hong Kongduring the week-long tournament.
Please kindly click here for more Chinese version of the press release
The 5th Men's Asian Hockey Federation (AHF) Cup is due to kick off on 19 November 2016 (Saturday). The AHF Cup is one of the biggest hockey events in Hong Kong. We held the event in 1997 and 2002 and were crowned champions. This year's Tournament will feature 8 teams, namely Bangladesh, Chinese Taipei, Hong Kong, Macau, Singapore, Sri Lanka, Thailand and Uzbekistan. Bangladesh being the top seeded team and defending champions is expecting to put pressure on all the teams of the Tournament, the winners of which will be qualified for the Asia Cup to be held in 2017.
FIH has just announced the latest match schedule after several late withdrawals. Hong Kong is placed in Group A and will be playing their toughest pool match against Bangladesh on the opening day. Hong Kong coach Mark Kake says Hong Kong is definitely playing all out for that match and all our players are aiming among the top three spots of the Tournament.
We look forward to seeing all the hockey fans at King's Park to lend your supports to our Hong Kong team at the Tournament.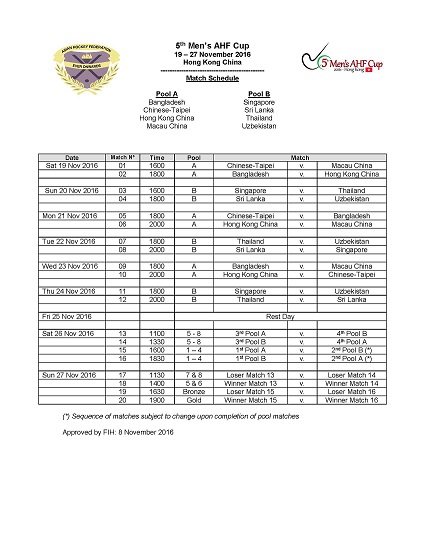 We received an excellent turn out at King's Park to try out hockey on this sunny Saturday today. Everyone was guided through strengthening exercises and hockey basic drills, many for the first time.

Today's hockey fun day was a series of promotion activities leading to the 5th Men's Asian Hockey Federation Cup which is due to start on 19 November at King's Park Hockey Ground. 9 teams including Bangladesh, Chinese Taipei, Hong Kong China, Indonesia, Macau China, Singapore Thailand, Sri Lank, Uzbekistan will be competing. The winner of the AHF Cup will be qualified for competing at the Asia Cup to be held in 2017.

Thank you #CoachUs joining us and it was fun working together!
The Hong Kong Women's National Squad is now in Bangkok, Thailand for the 4th Women's AHF Cup 2016 to be held from 1st -9th October. Hong Kong is placed in Pool B with Singapore, Pakistan and Cambodia while Thailand, Chinese Taipei, Sri Lanka, Indonesia and Uzbekistan are in the other pool.
We wish them all the best!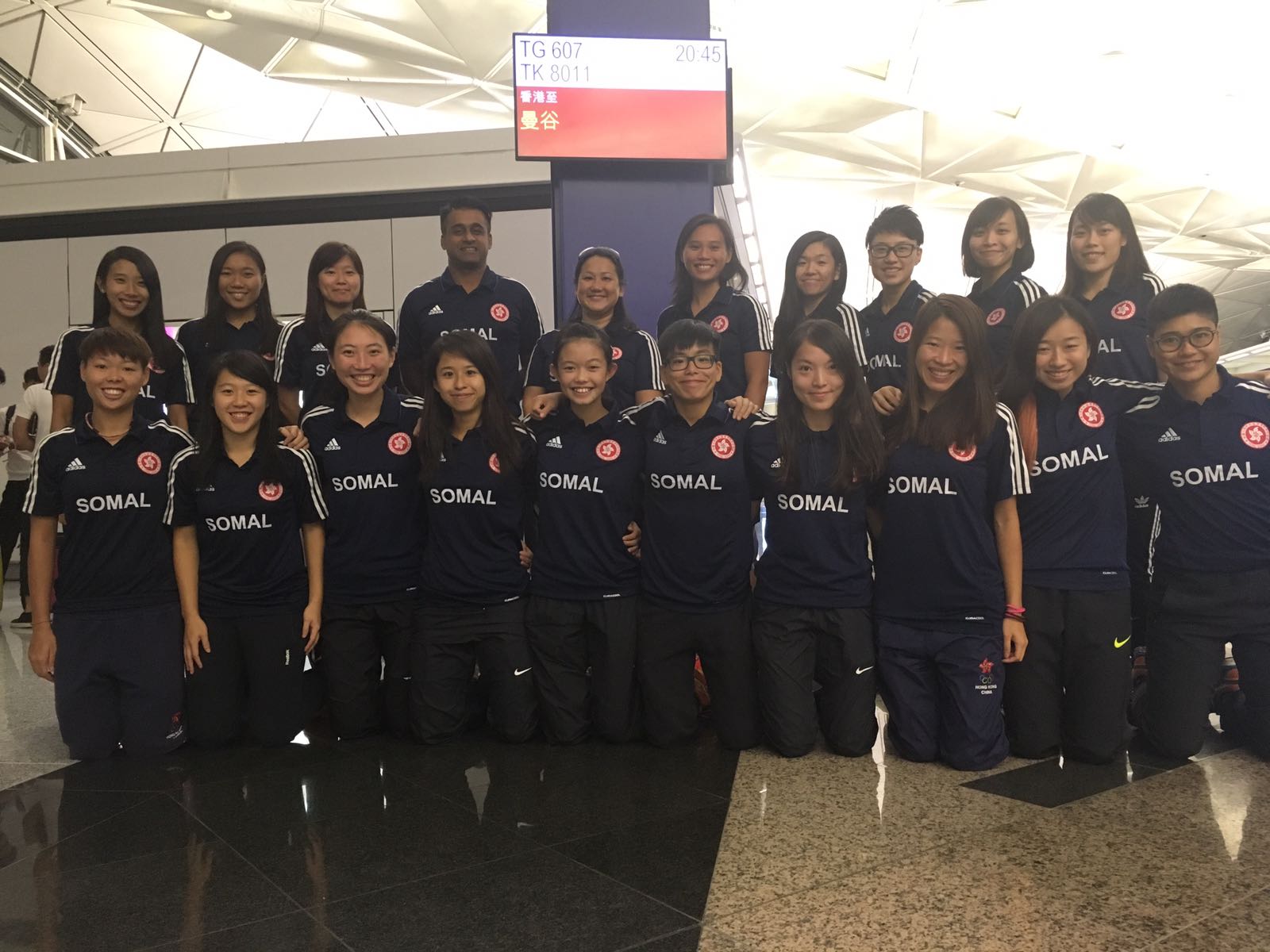 Fixtures, standings and team list can be found here: https://tms.fih.ch/competitions/717.
Organized by
The Hong Kong Hockey Association & Subvented by Leisure and Cultural Servises Department, Hockey Training Course for Adults 2016/2017 will start in September.
Beginner Course I - FULL
Beginner Course II - FULL
Intermediate Course I - FULL
Intermediate Course II - FULL

Please note that Umpire Section have a facebook page and you can get the latest news and notices regading the US.
Men's Premier Division Top 5
| | Team | Pld | Pts |
| --- | --- | --- | --- |
| 1 | Khalsa A | 17 | 44 |
| 2 | HKFC A | 17 | 41 |
| 3 | SSSC A | 17 | 36 |
| 4 | KNS A | 17 | 24 |
| 5 | HKCC A | 17 | 10 |
Women's Premier Division Top 5
| | Team | Pld | Pts |
| --- | --- | --- | --- |
| 1 | HKFC A | 10 | 28 |
| 2 | HKFC B | 10 | 17 |
| 3 | KCC A | 10 | 16 |
| 4 | Valley A | 10 | 14 |
| 5 | Coyotez | 10 | 5 |