As part of the celebration of the 25th Anniversary of the Establishment of the HKSAR, with the sponsorship of The Hong Kong Jockey Club, the Hong Kong Hockey Association is organising a mini and youth one-day hockey tournament with Elite Sports Club (Co- organizer) on 10 December 2022, from 09:00-14:00 at King's Park Hockey Ground, 6 Wylie Road, Kowloon.
The tournament will be played in four age groups namely under 6, under 8, under 10 and under 12.
You are welcome to join in any of the age group.
For enquire and registration, please contact us at 90862757.
The Men's National Squad Committee will be conducting selection trial sessions to select potential players for Singapore Test match & Junior AHF Cup. .
For details of the trial please click HERE.
The revised fixtures ML2022/23 are now available!
Please click HERE for details.
Congratulations to HKT ladies who won the AGQ tournament in Jakarta. Hong Kong played a phenomenal tournament, winning 5 of their 6 matches. Co- Captain Evelyn Cheung scored an impressive 7 goals to win top goal scorer of the tournament. And Co-captain Coby Lau won the AHF Athletes Ambassador recognising her outstanding performance.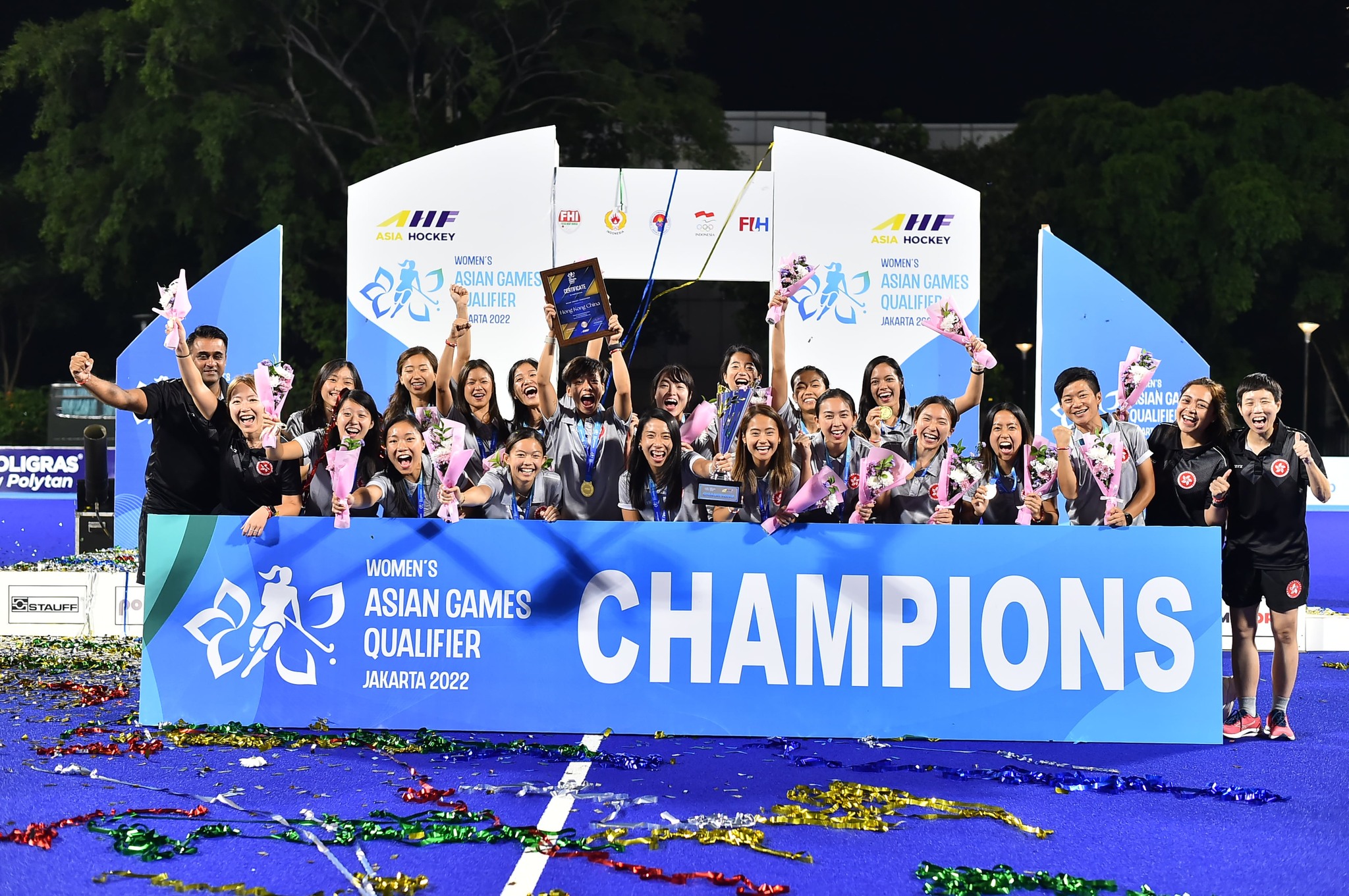 In view of Government's announcement of closure of sports grounds and suspension of group activities including hockey for 14 days starting from 7 January 2022, all HKHA league matches, activities, events, training courses and programmes will be postponed until further notice.
The HKHA will continue to closely monitor the situation and make timely announcement to public.
Should you have any questions, please contact us via email at hkha@hockey.org.hk.
Event Calendar


| S | M | T | W | T | F | S |
| --- | --- | --- | --- | --- | --- | --- |
| | | | | 1 | 2 | 3 |
| 4 | 5 | 6 | 7 | 8 | 9 | 10 |
| 11 | 12 | 13 | 14 | 15 | 16 | 17 |
| 18 | 19 | 20 | 21 | 22 | 23 | 24 |
| 25 | 26 | 27 | 28 | 29 | 30 | 31 |
Men's Premier Division Top 5
| | Team | Pld | Pts |
| --- | --- | --- | --- |
| 1 | Khalsa A | 7 | 21 |
| 2 | KNS A | 7 | 18 |
| 3 | Pak A | 6 | 9 |
| 4 | HKFC A | 6 | 9 |
| 5 | KCC A | 7 | 7 |
Women's Premier Division Top 5
| | Team | Pld | Pts |
| --- | --- | --- | --- |
| 1 | HKFC A | 8 | 22 |
| 2 | Coyotez | 9 | 20 |
| 3 | KCC A | 9 | 16 |
| 4 | Valley A | 8 | 16 |
| 5 | HKFC B | 8 | 4 |